What I knew about Ratatouille involved the vague recollection of an animated movie I never saw and the maybe guess that it was soup adjacent, or pasta oriented (?), so it was with great relief that the beautiful and talented Marine Madesclaire offered to take me under her very French wing. Now I too am apparently ethnically French if the stories are true, but I don't have the foggiest idea about any French cuisine (thanks parents..) so I showed up to our food adventure with an empty belly and an open mind.
The first thing I learned was I had completely no idea what Ratatouille was and it in no way involves pasta. Nice try, Peloquin. What it does involve is a pot full of fresh vegetables, a tiny bit of seasoning and a lot of time to let everything cook together on it's own terms.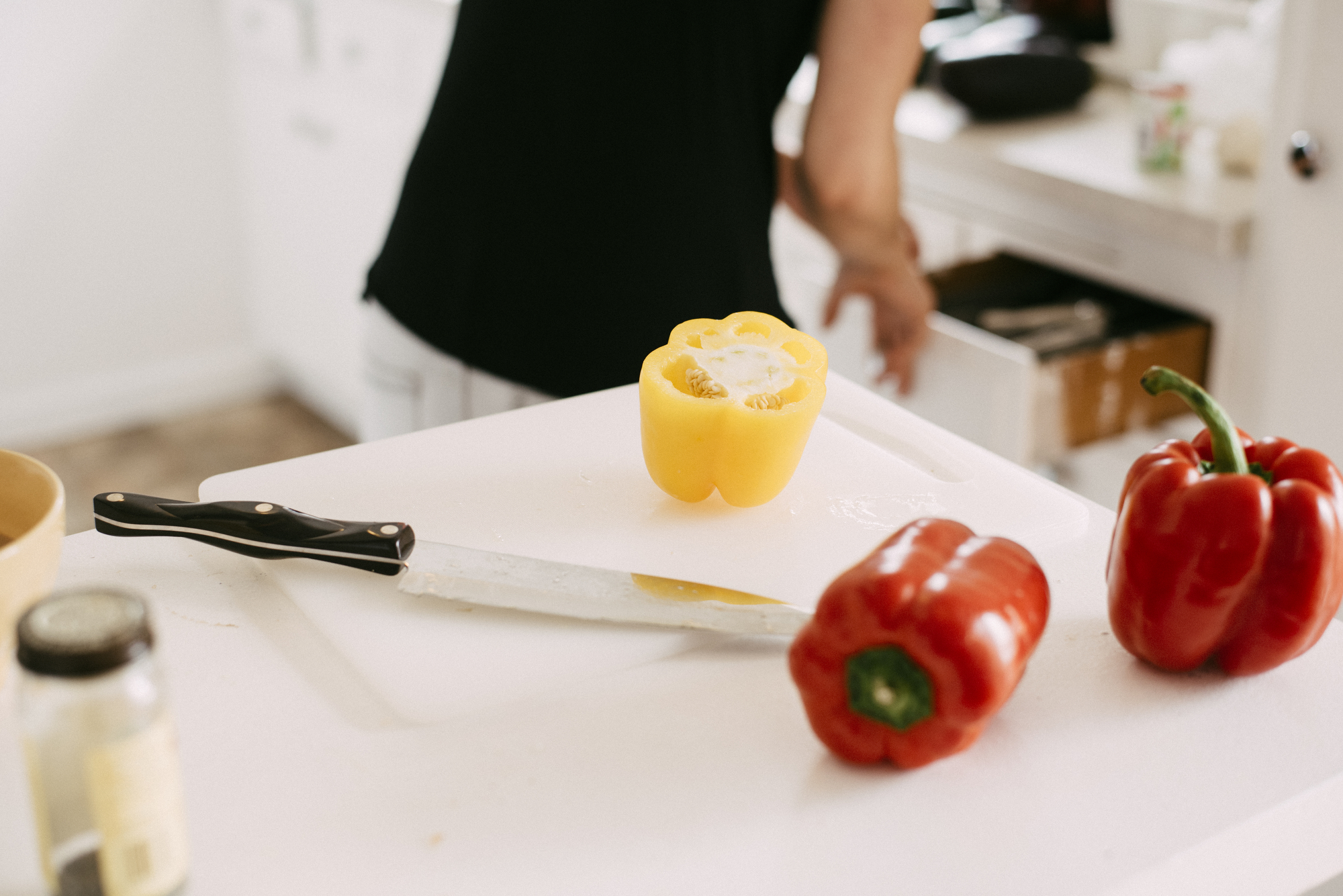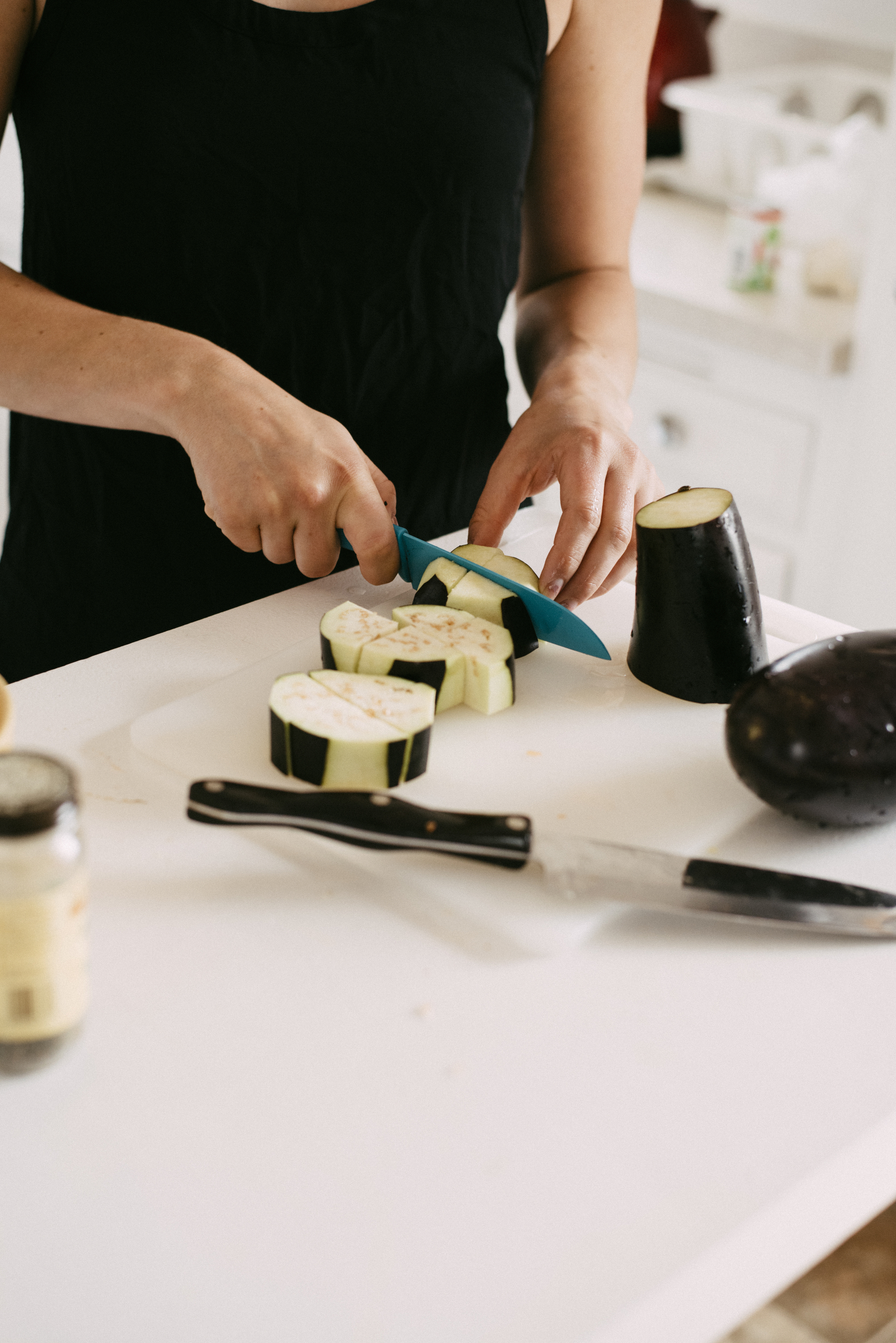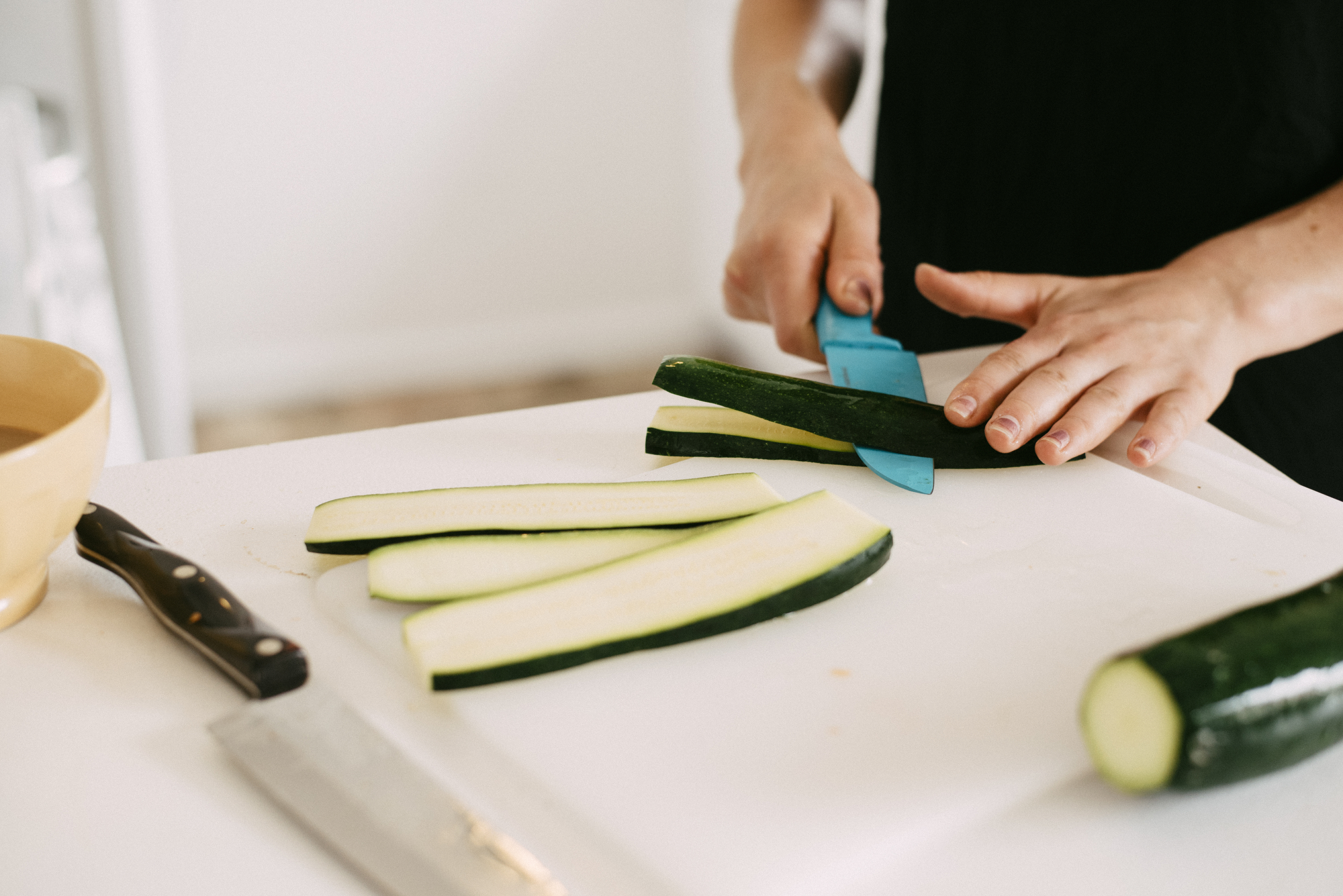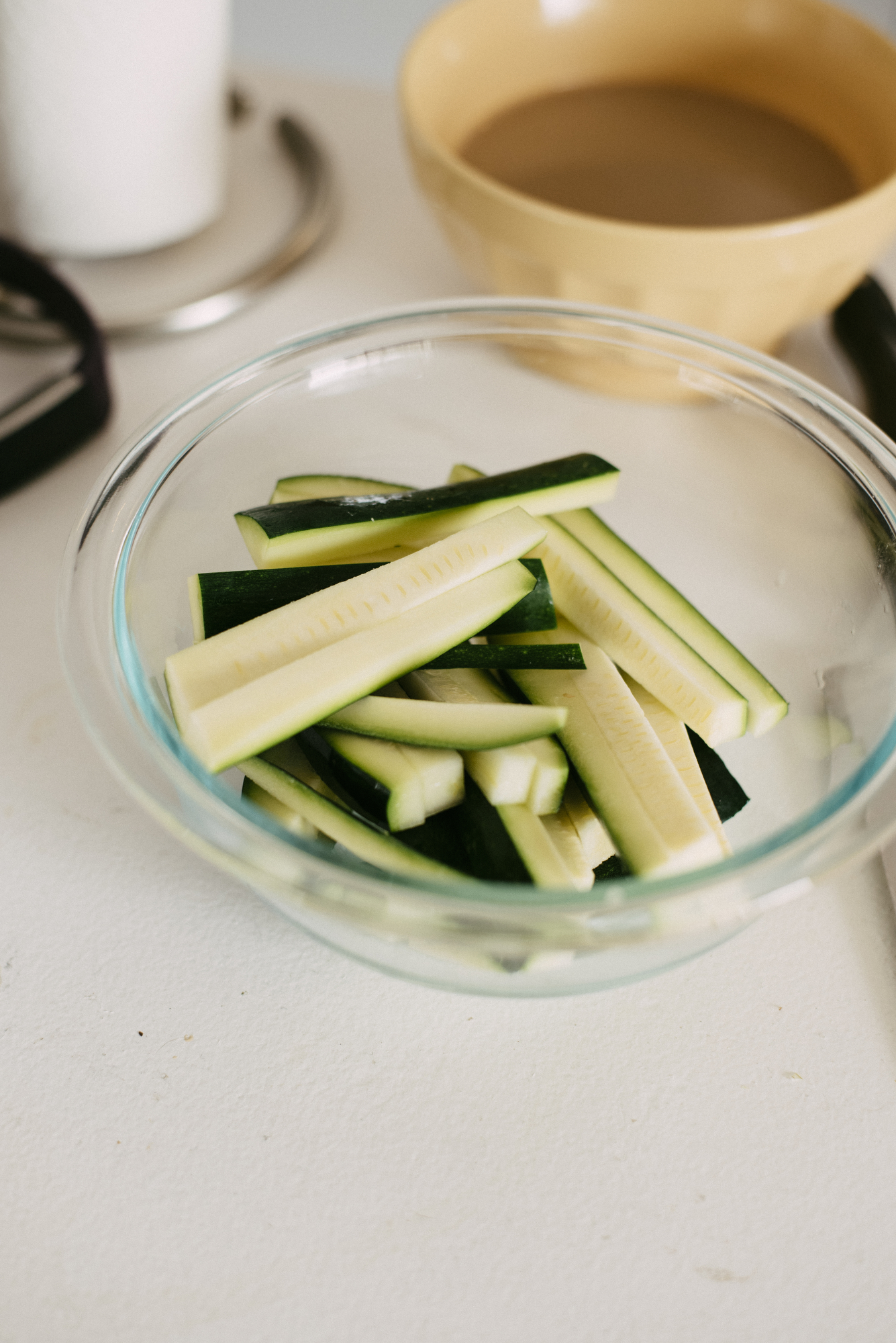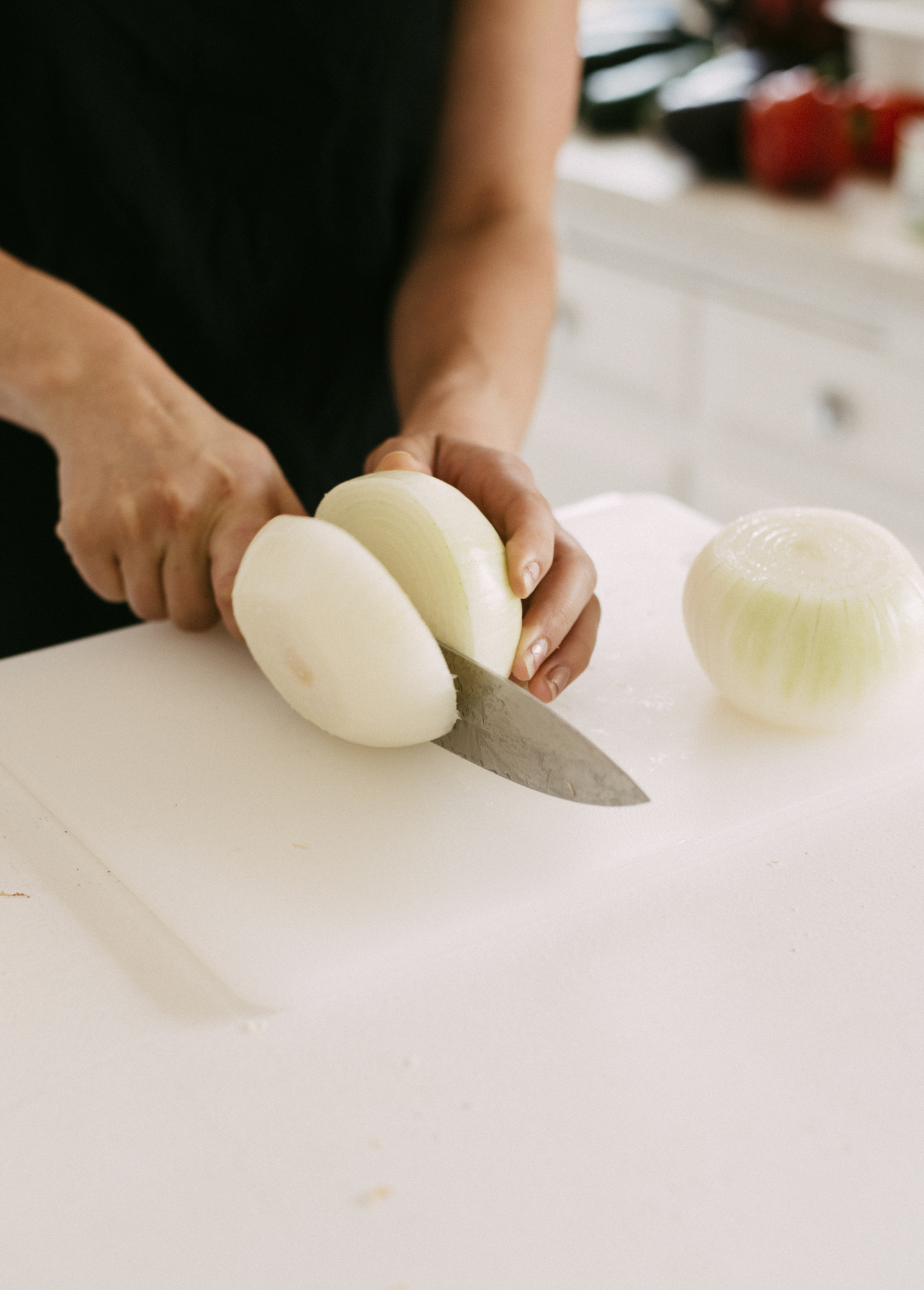 Our chef first busied herself with the chopping of a pile of vegetables. There were onions, different colored peppers, zucchini, and eggplant chopped chunky in whatever fashion seemed most pleasant. There don't seem to be a lot of specific rules on how to chop the veggies but everyone has a preference on shapes. The onions were kept together in very thick slices and added to the pot first to caramelize slightly in a bit of olive oil before they made friends with the other veggies.
While the onions were living their best life at the bottom of the pot, Marine tossed the eggplant and zucchini in their own pots to cook down. One of the great aspects of this meal is that you can pretty much just cook the elements while keeping an eye on them but don't really need to time things. Just cook every component down to about the same texture of "mostly done" before combining them.
The veggies cooked in their pots with some minimal stirring and just a bit of salt and pepper as Marine and I patiently (jk) sipped on some coffee. Look how cute she is. Seriously, she's adorable it's impossible to pick one photo so here are three.
Marine explains to me that for her Ratatouille was an obvious pick for her important meal because it is synonymous with comfort, the feeling of family and the hearty, warmth of the dish. It's also packed with healthy foods which give us energy and nourishment in a way loads less detrimental to our diets as many American faves. As she writes,
"Ratatouille is my favorite food. And by that I mean, if there was one food I had to eat for the rest of my life, that would be it. The movie 'Ratatouille' is wrong about the exact dish but the feeling of evoking childhood and happiness is spot on. It's one of the most basic, most emotionally reactive foods in the world for me. This recipe was taught to me by my step fathers grandmother, Marine, in the south of France."
She explains to me as she consolidates our veggies that Ratatouille is a dish about patience. It takes an afternoon to cook things together, and the flavors taste even better the next day, but who can wait that long. Seriously not me. I mean look at how happy she is smelling that, imagine waiting a whole day!?! Impossible!!!
While we wait for all the flavors to combine we keep sipping on coffee and I pretty much just wander around looking at things while annoying Esme the cat, who steadfastly became over it. I think our friendship is still salvageable though.
Marine is a talented dancer among other things, so she was casually working on a costume while also cooking like it's normal to just be good at everything and really nice. How dare you Marine. HOW - DARE - YOU. She also realized at this point that I definitely had never watched the movie 'Ratatouille' so she put that on while she sewed. It's really cute and heartwarming and that fictional rat is an infinitely better cook than I will ever be so I'm jealous of him.
More stirring happens, and a taste test. Is it ready?
She prepares the Ratatouille in handmade ceramic bowls her mother made and butters some bread because what is better than a homemade stew with bread and butter? Nothing, the answer is nothing. There is also wine. That is not terrible either.
Finally after a wonderful afternoon of friendship, Pixar and burlesque outfits we sit down to her (yes of course) handmade table, to eat. For each of these food stories I encourage the cooks to serve their meal the way they usually would eat it, in their dishes, on their plates, in their home the way you would with family. That being said, even though it may have been ordinary to her, this was such a beautiful display to me, something that even just the glimpse of it was special and transformative. I was definitely starting to see why she picked Ratatouille.
We talked earlier about how healthy this is, but even more than that, every bite of Marine's Ratatouille radiated with the feeling of family. I felt like I could see everyone gathering around to help chop veggies, sneaking bites as it was cooking and stirring patiently to create this simple, but lovingly orchestrated meal. Marine sent me home with a bowl to tuck in the fridge for later and she was right...it did get better, if you can wait that long!
Thanks for sharing a bit of home with me Marine!
You can keep up with this triple threat model, actress, dancer at:
Until next time,
Happy snacking.
xoxo,
RP