I met April, a few years ago when I photographed a female singer/songwriter show she was throwing called "Wonder Women". April, a talented, powerfully bluesy singer herself, had assembled a group of equally incredible women to showcase their talents one excellent night. As I would come to find in the years of friendship that followed, she is always using that gift of assembling great talent for even greater good.
She hosts a networking event for female professionals to encourage friendship and solidarity and runs an incredible group called "Compassion Club" where she rallies people together to assemble and distribute survival kits to help out the homeless population of Los Angeles with bags of snacks, toiletries and over all things of dire necessity. People rarely think about how important small things like deodorant or socks or even a tampon is until they don't have access to them. April is always thinking about other people, and a warm and inviting force to be around, so it was a great privilege to get to hang out in her kitchen and photograph her food story.
Potato pancakes, or latkes are a meal that is important to a lot of people. They are hearty and filling while affordable, and represent tradition passed down from family members throughout the years to unite through a good and plentiful meal. April's potato pancakes have a whole rich tradition of sharing with new family members to welcome them into the fold. Here's what she had to say:
My great-grandmother (whom I've never known by any name but Nana) was a Russian Jew. She immigrated to America to escape antisemitism. She married a Polish Jew and they had three children. When my grandfather Norman married my grandmother Helen, he missed Nana's cooking - particularly her potato pancakes (latkes.) Wanting to make him his favorite dish, my grandmother asked his mother to teach her. Apparently my grandfather loved her latkes so much, he told her they were even better than his mother's but of course he would never let that slip to his mother... there are some things that are better left unsaid!
Like my grandmother before me, I've also learned a couple of my husband's favorite recipes from my mother-in-law. I find that food has a unique way of connecting us and conveying love without words, and there's truly something special about making my husband the recipes his mother and grandmother's once made.
So my great-grandmother taught my grandmother how to make latkes, and in turn my grandmother taught my mother, and my mother taught me. Growing up, we never had much money, and potato pancakes are extremely inexpensive to make, so we could always afford the ingredients. I still grate the potatoes and onion by hand but I've altered the recipe over the years adding shallot, chives, and tarragon. My recipe is less traditional now but I just love the flavor, and my husband and I now make them every Christmas Eve for his family, serving them as a side dish to their traditional Lithuanian sausage and sauerkraut. And I must admit, that while I'm anything but traditional, I do love the symbolism of weaving a piece of my family history into his, and fabricating a tradition of our own.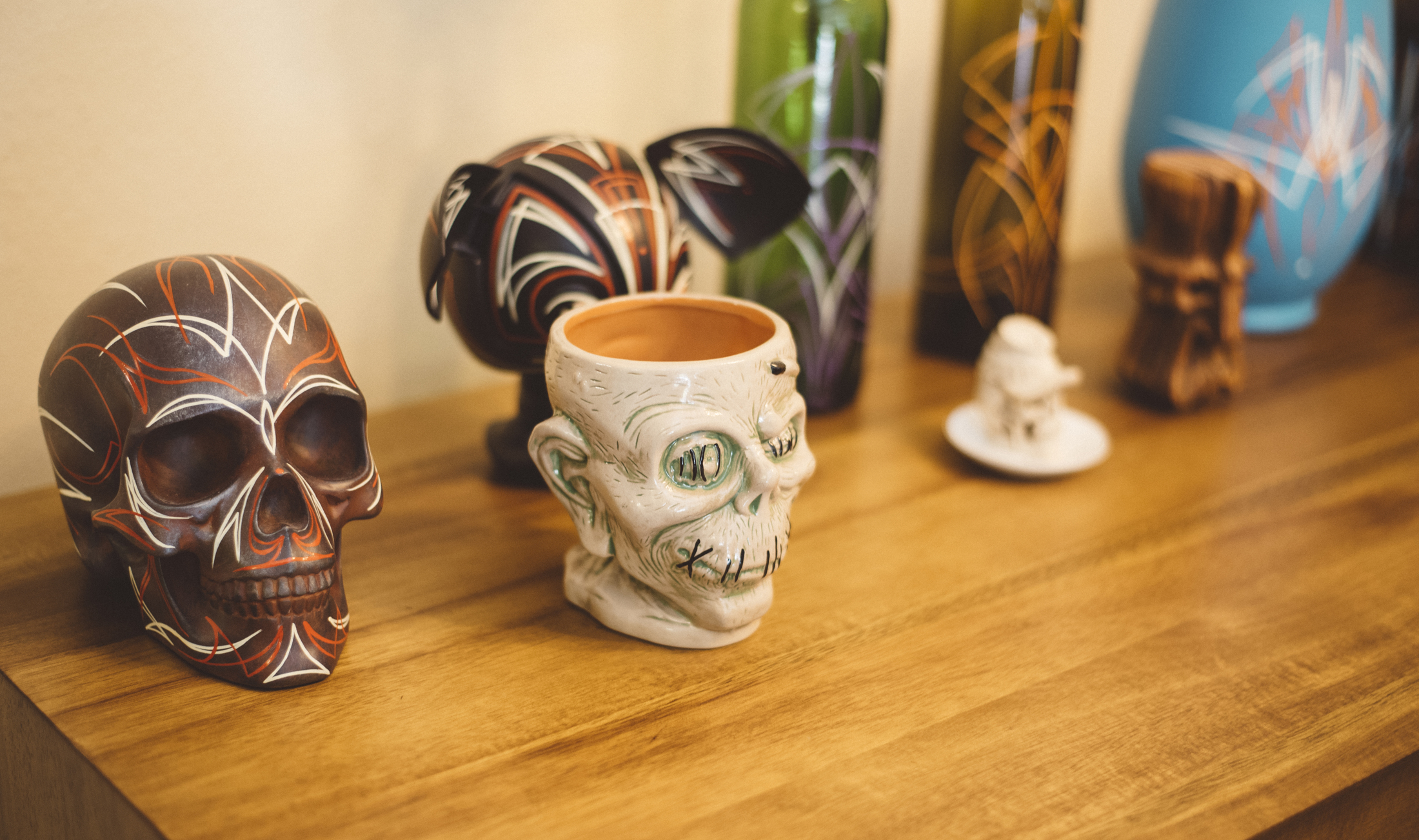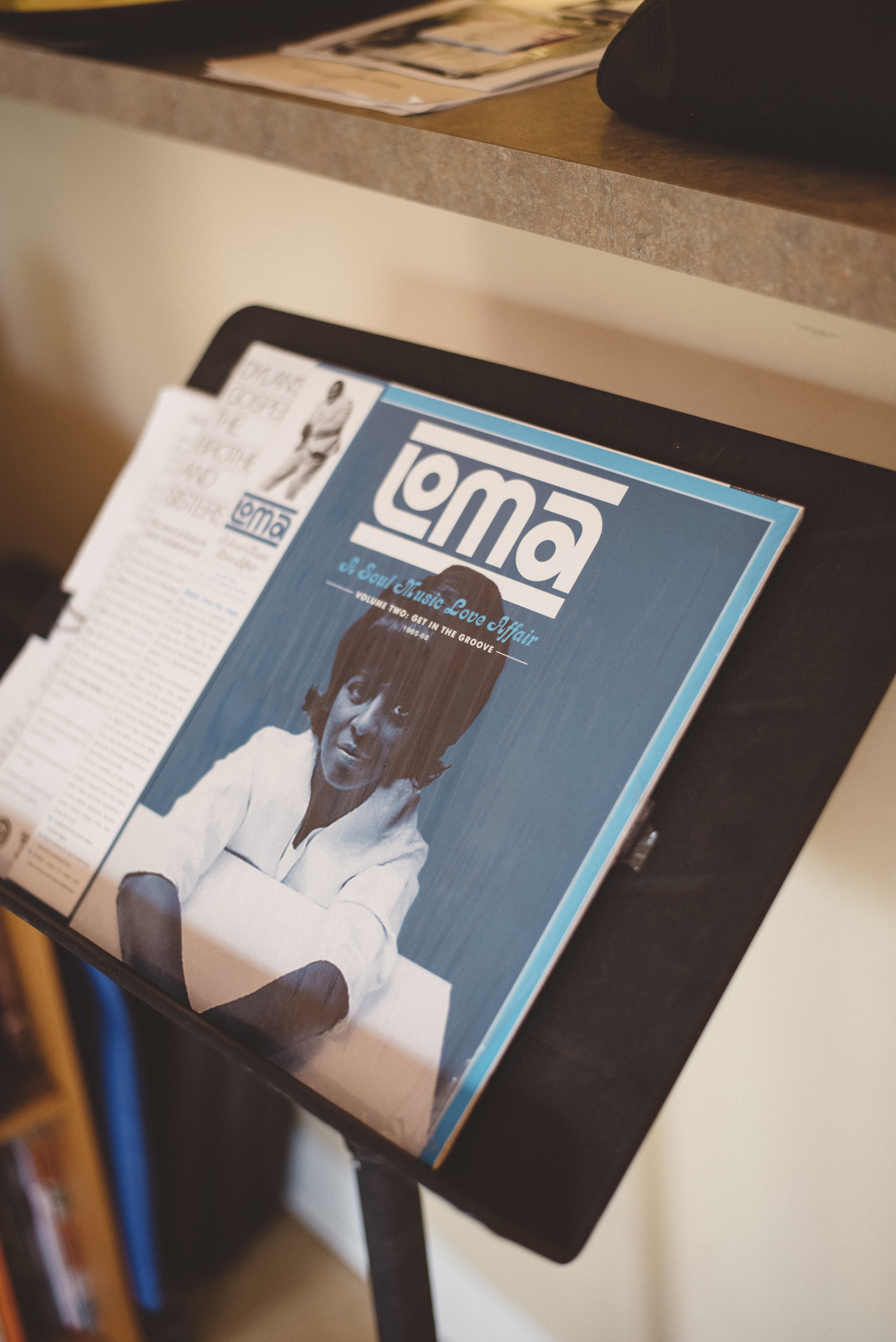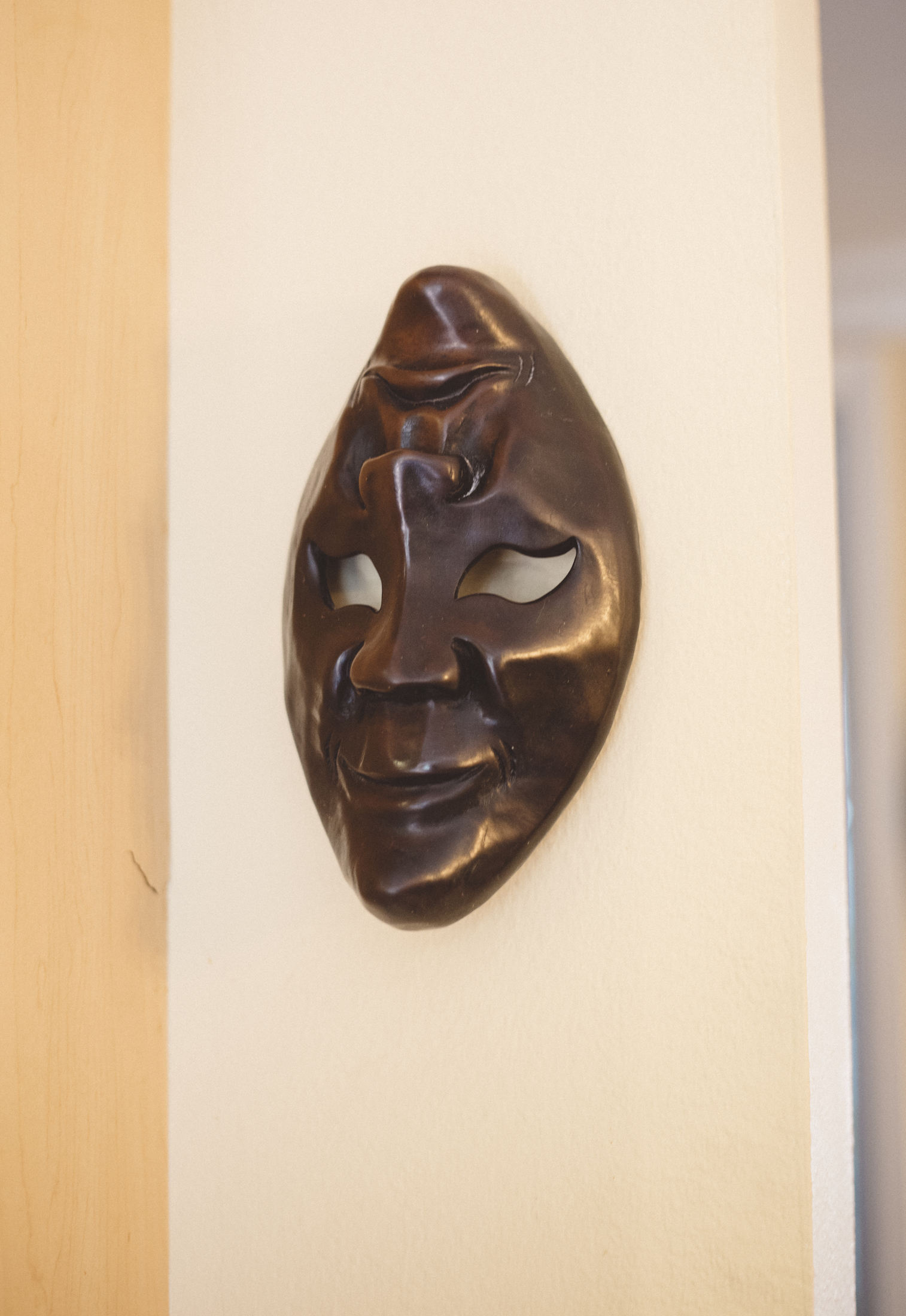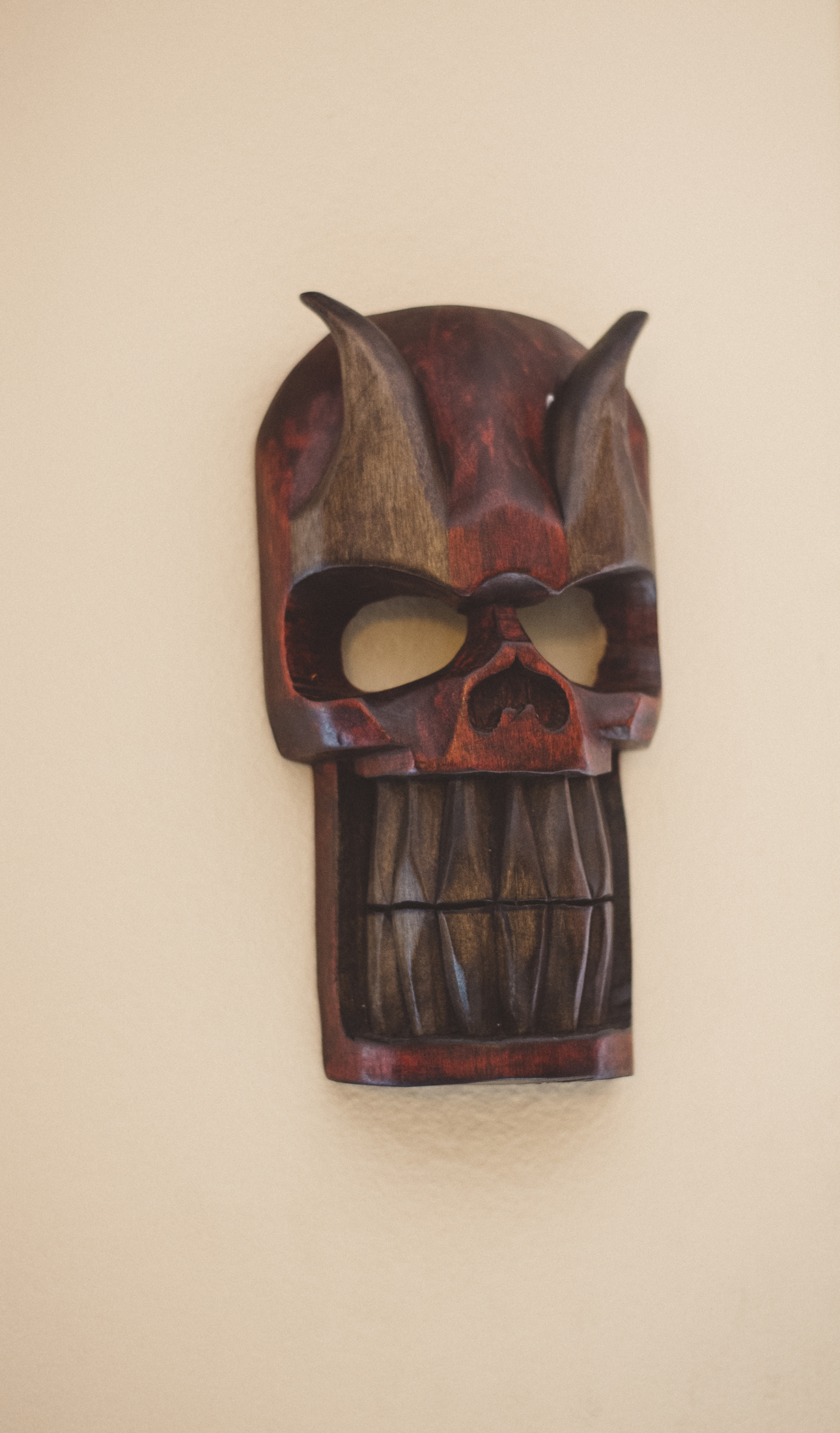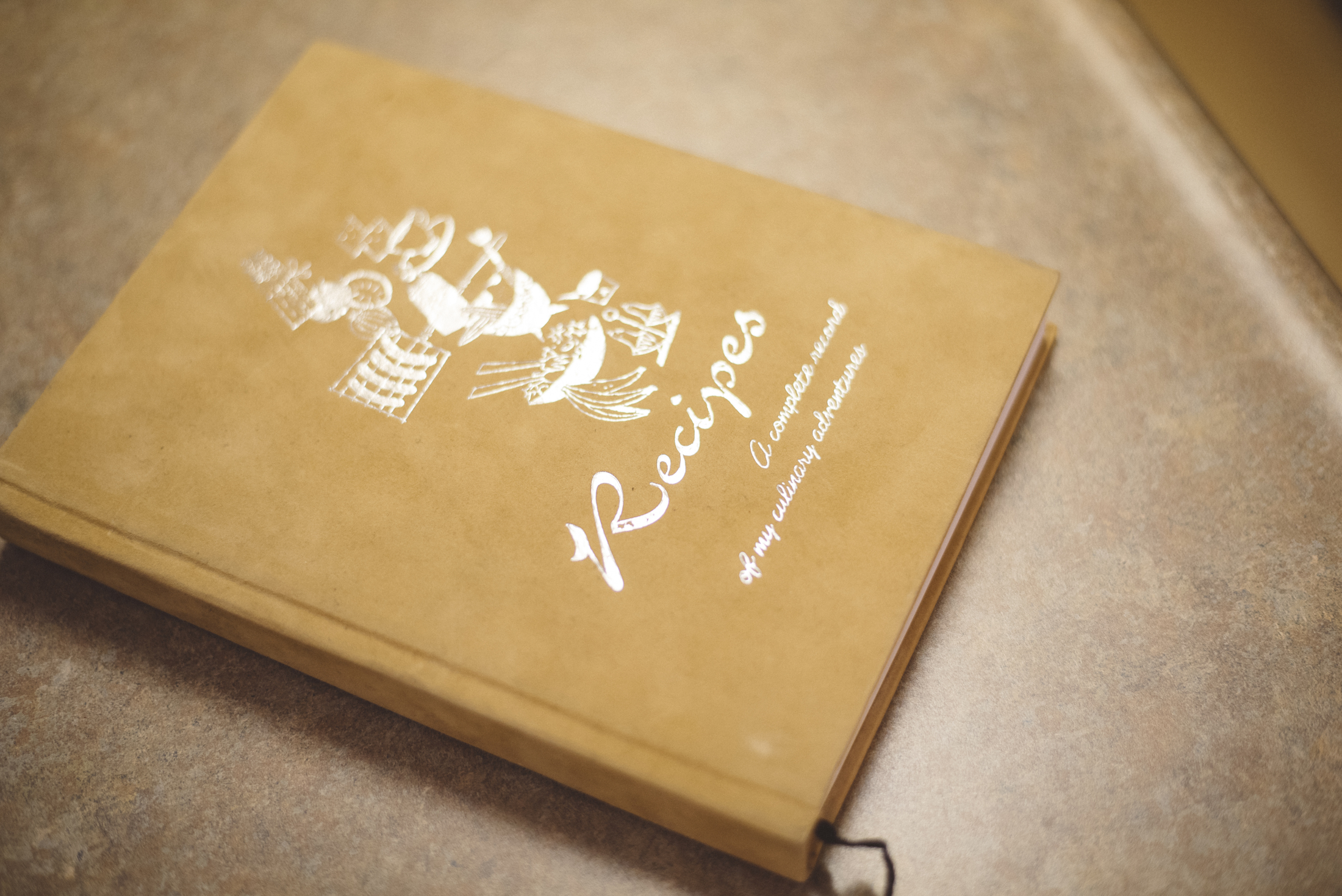 Setting the mood with some gospel renditions of Bob Dylan, April gets to work peeling some of the many potatoes she will need while I wander around and take in the sights. By this I mean I played with her bunny...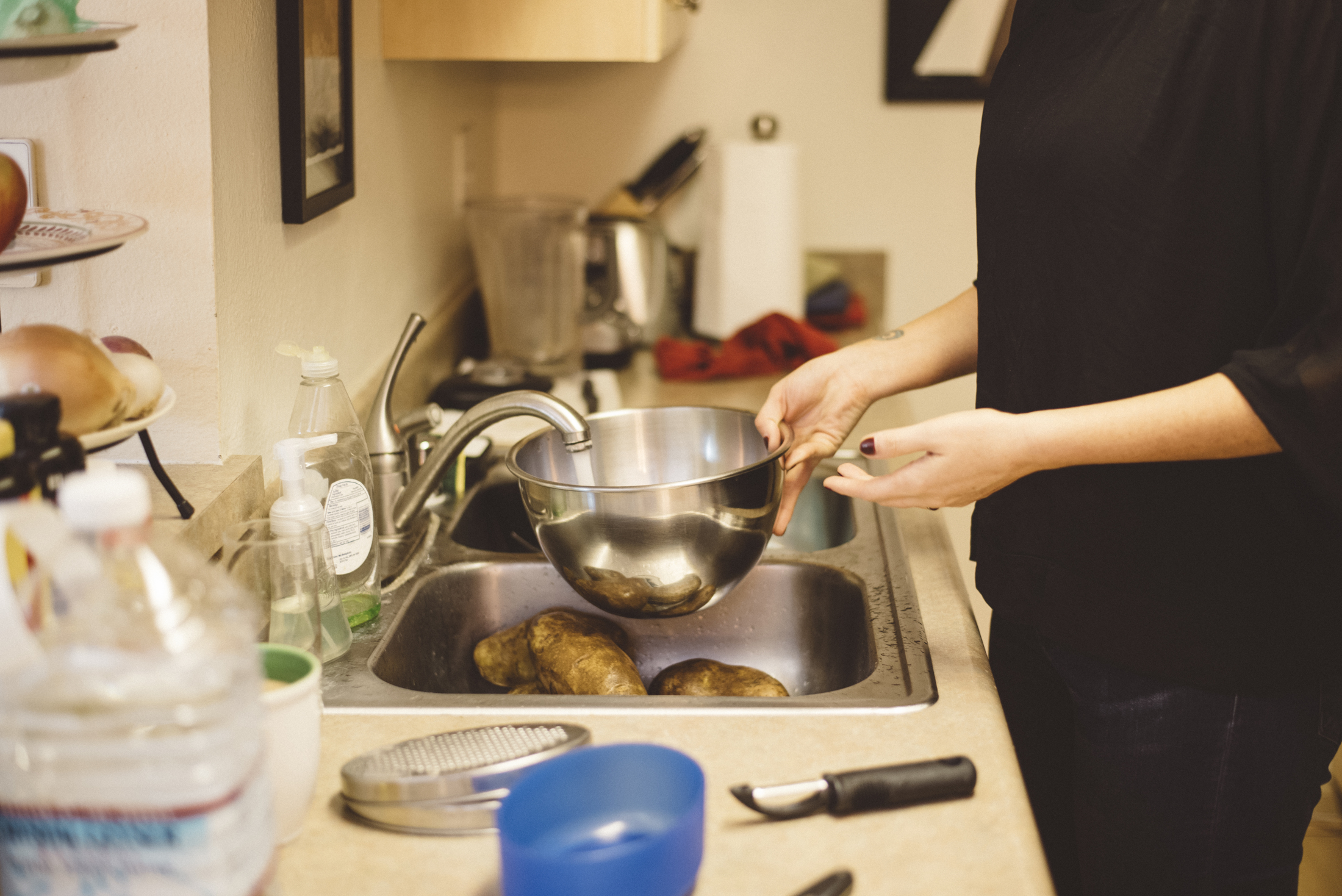 So many potatoes to peel, but she does it with an unwavering smile.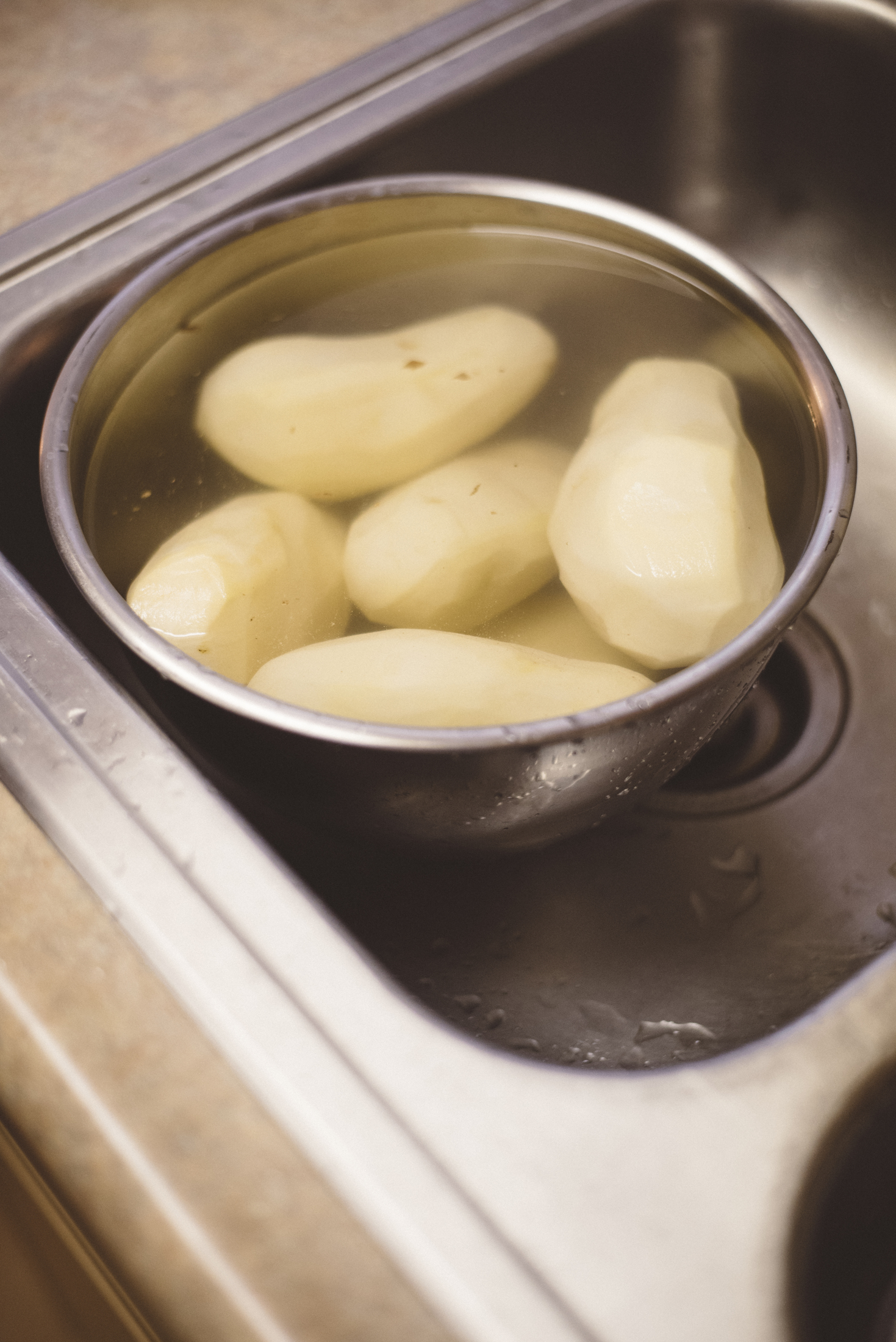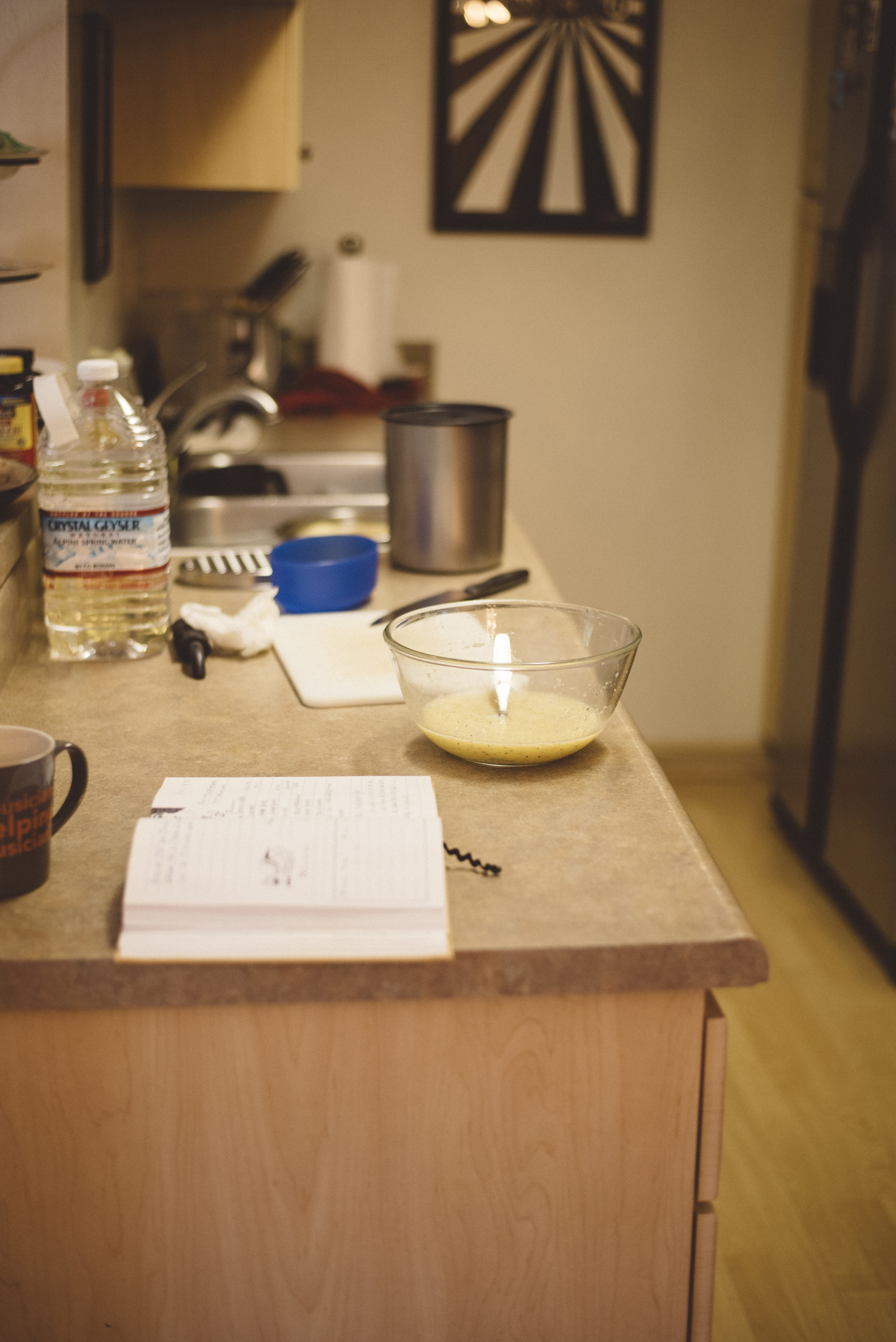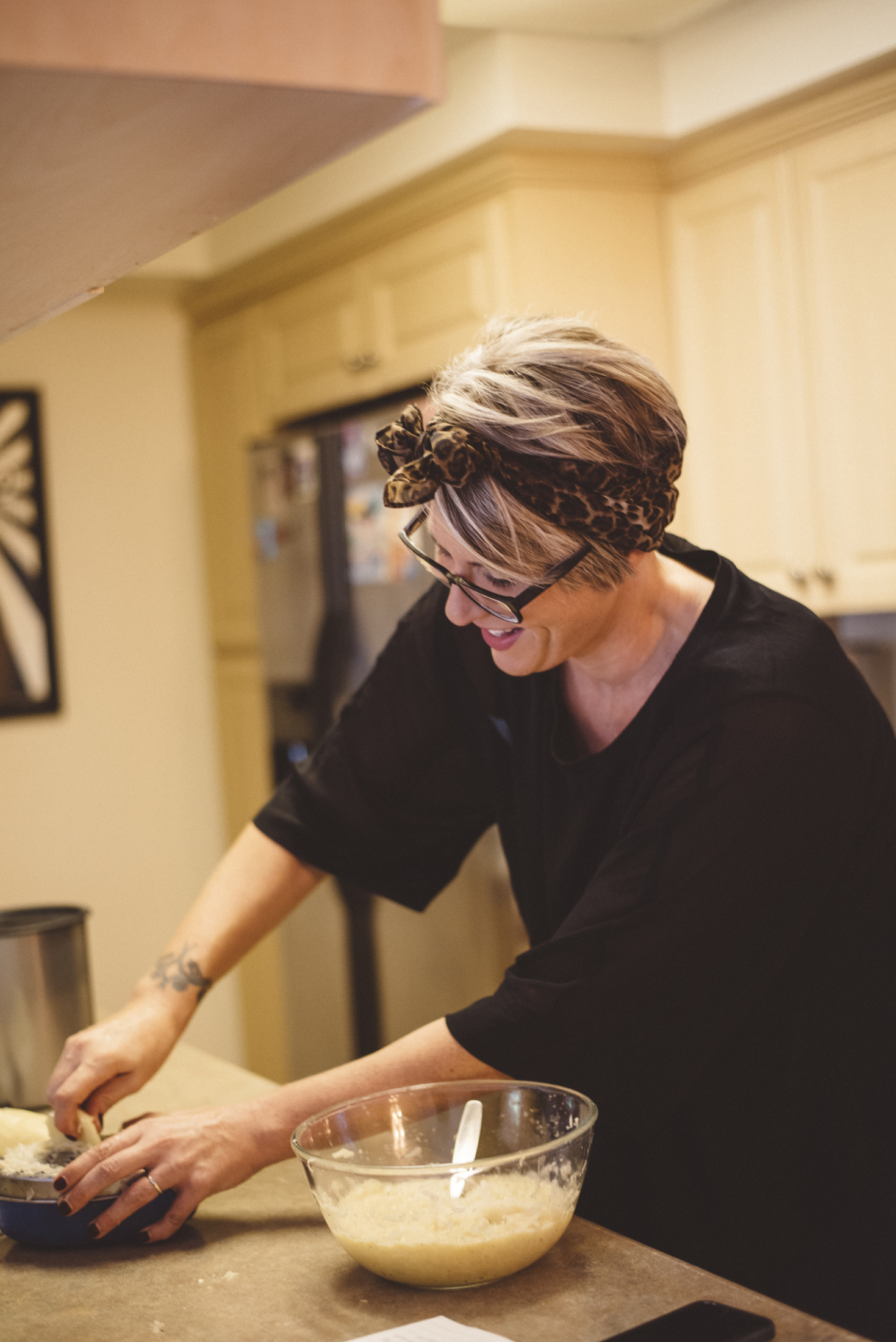 Shallots and onion become chopped and grated. April keeps smiling through it. I don't think her eyes even watered once...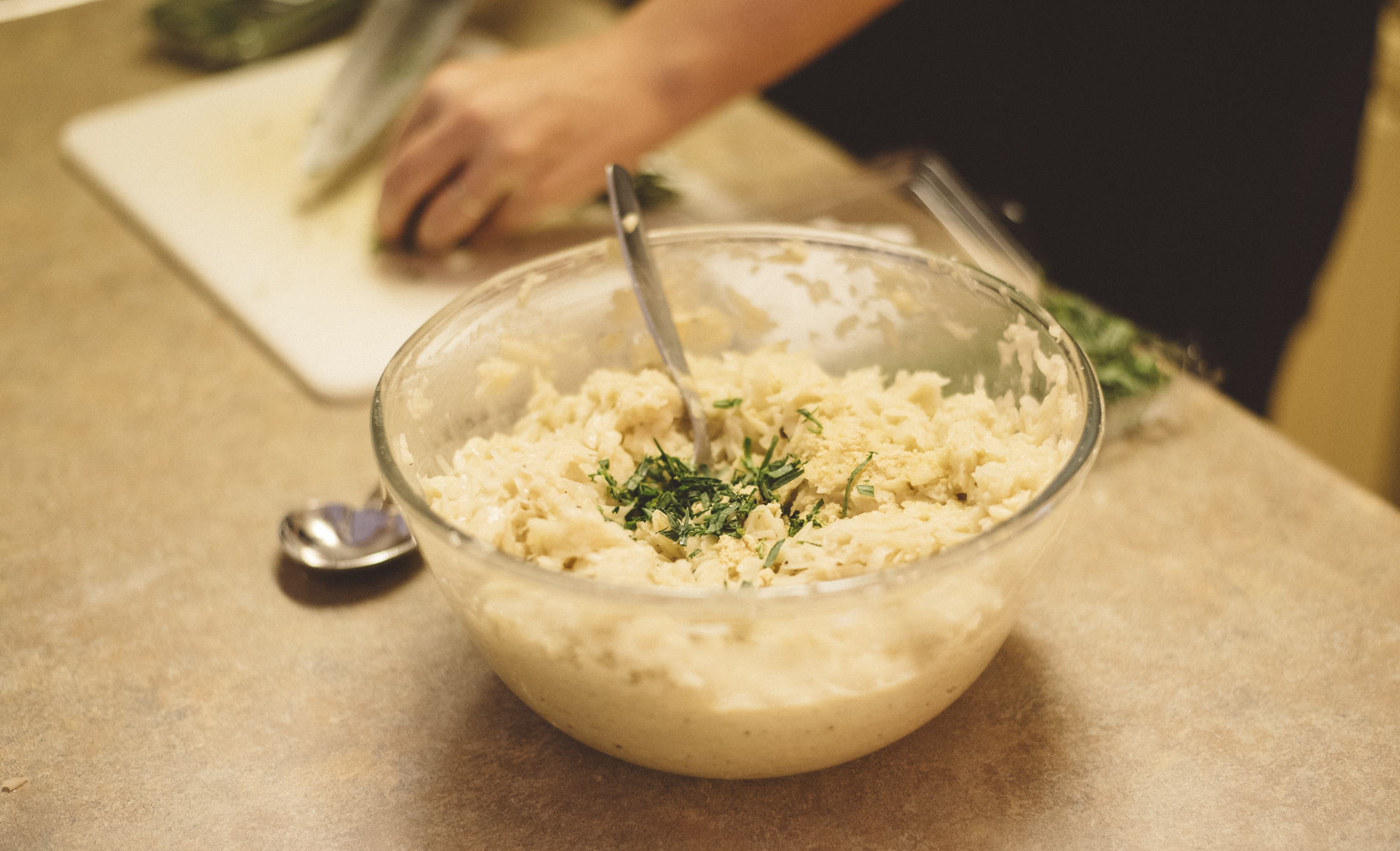 Herbs get chopped and added for extra dimension and flavor.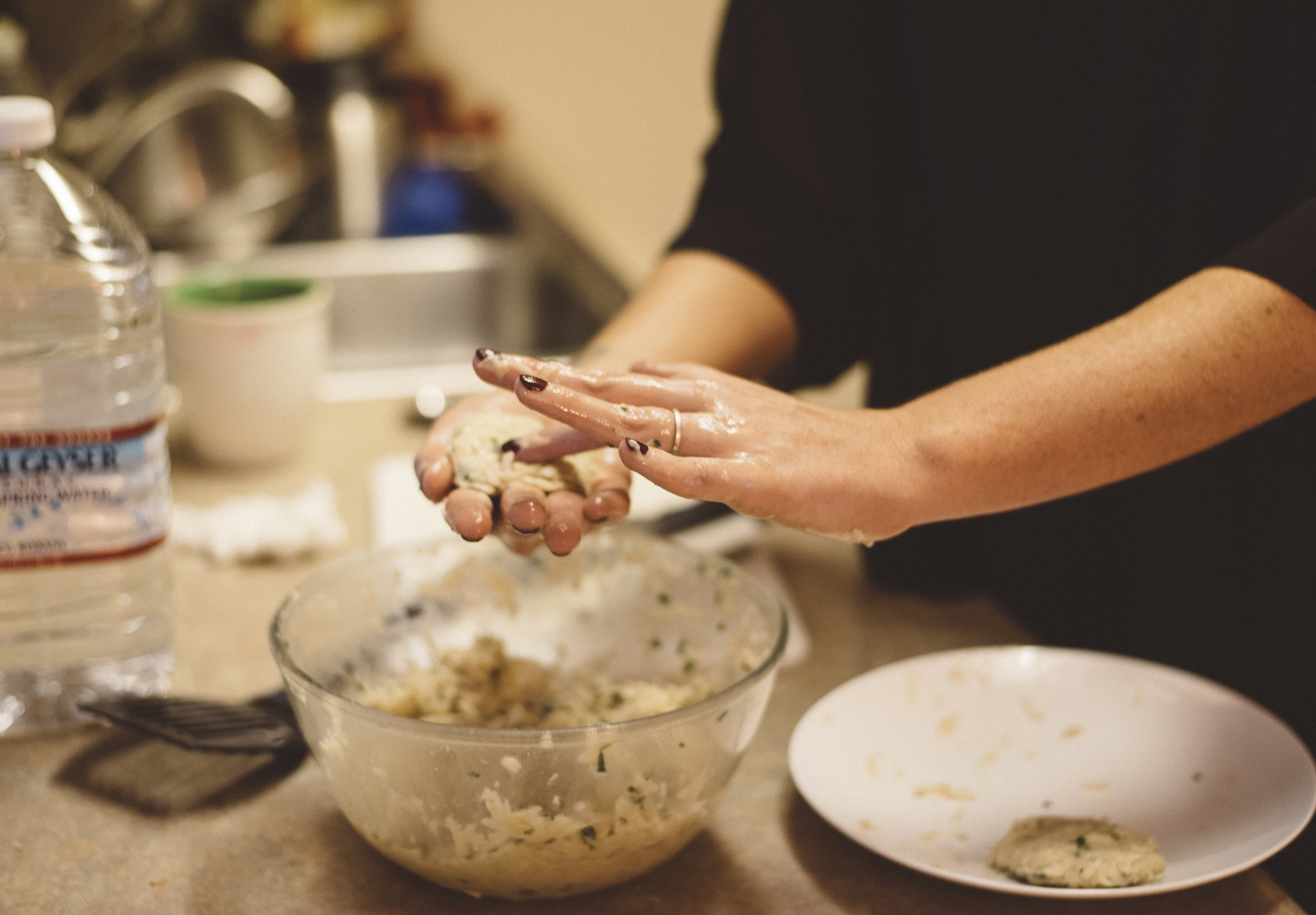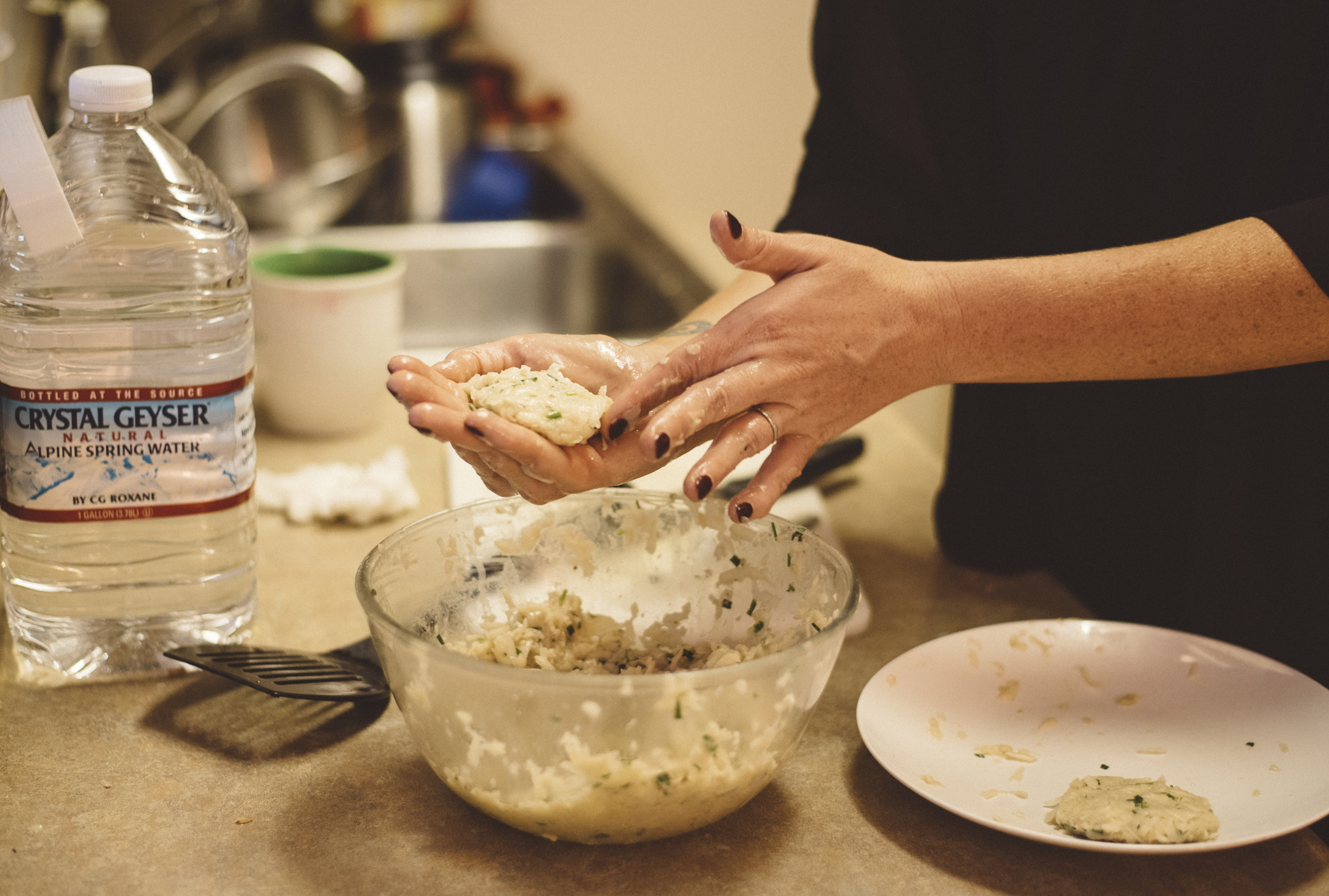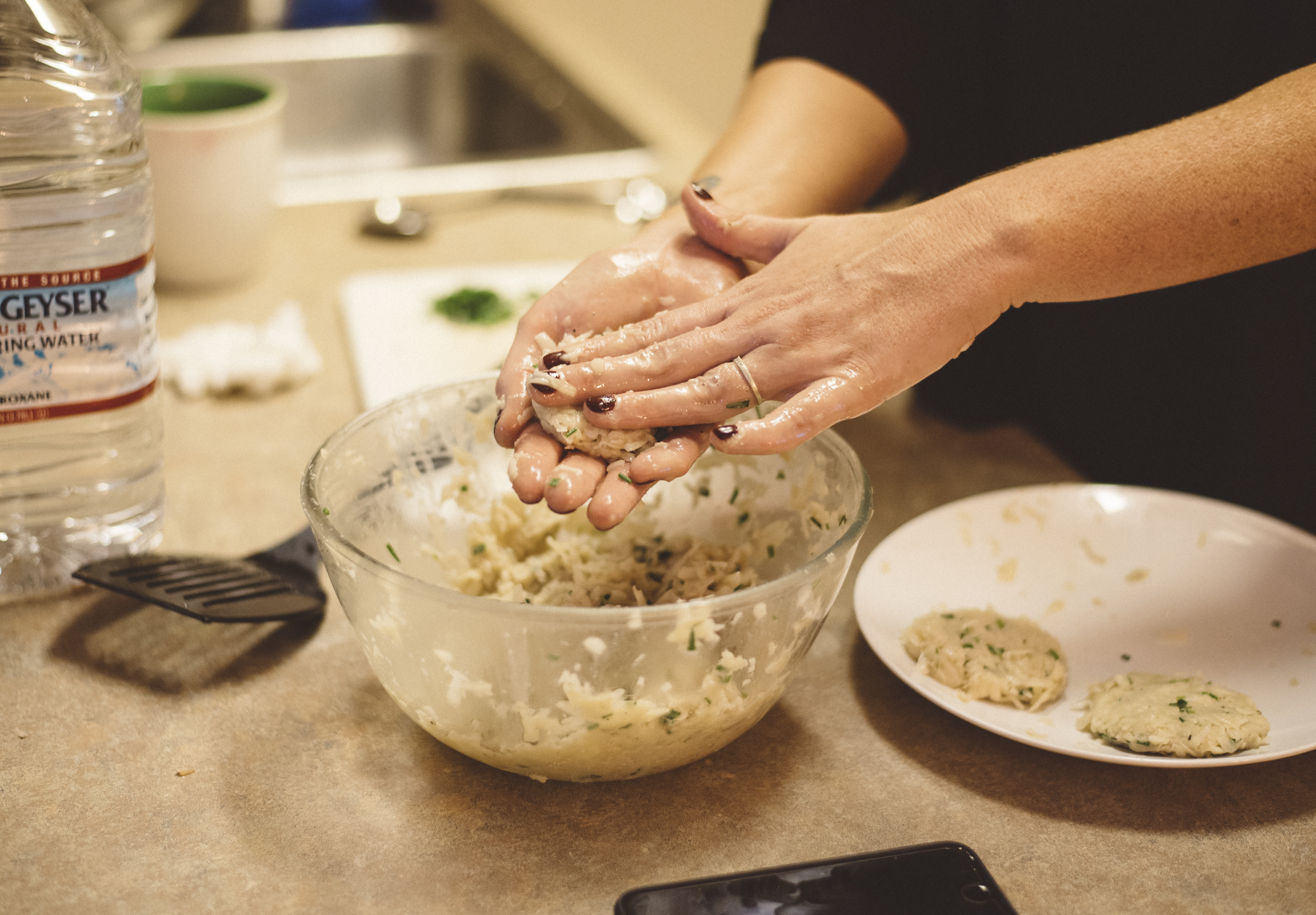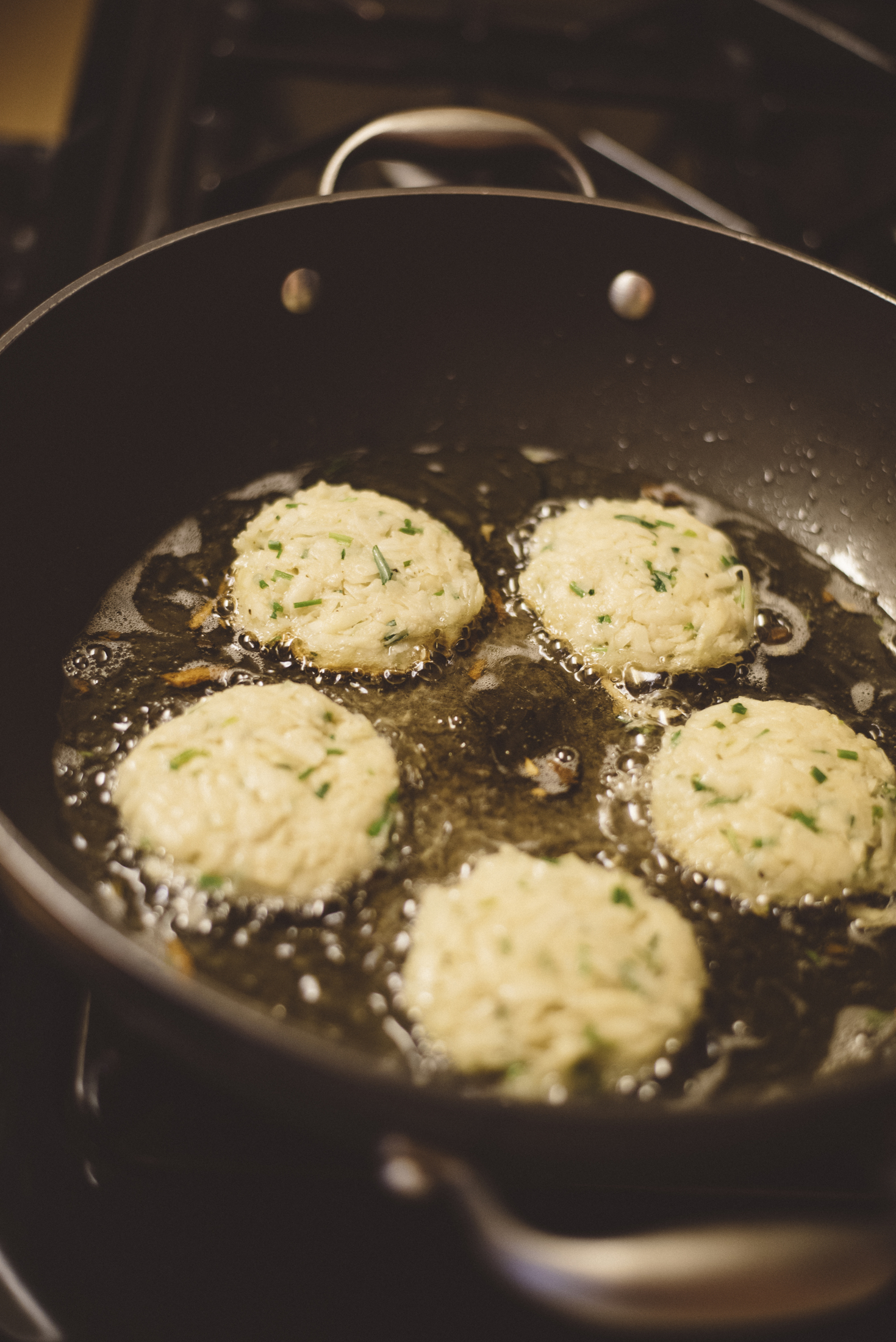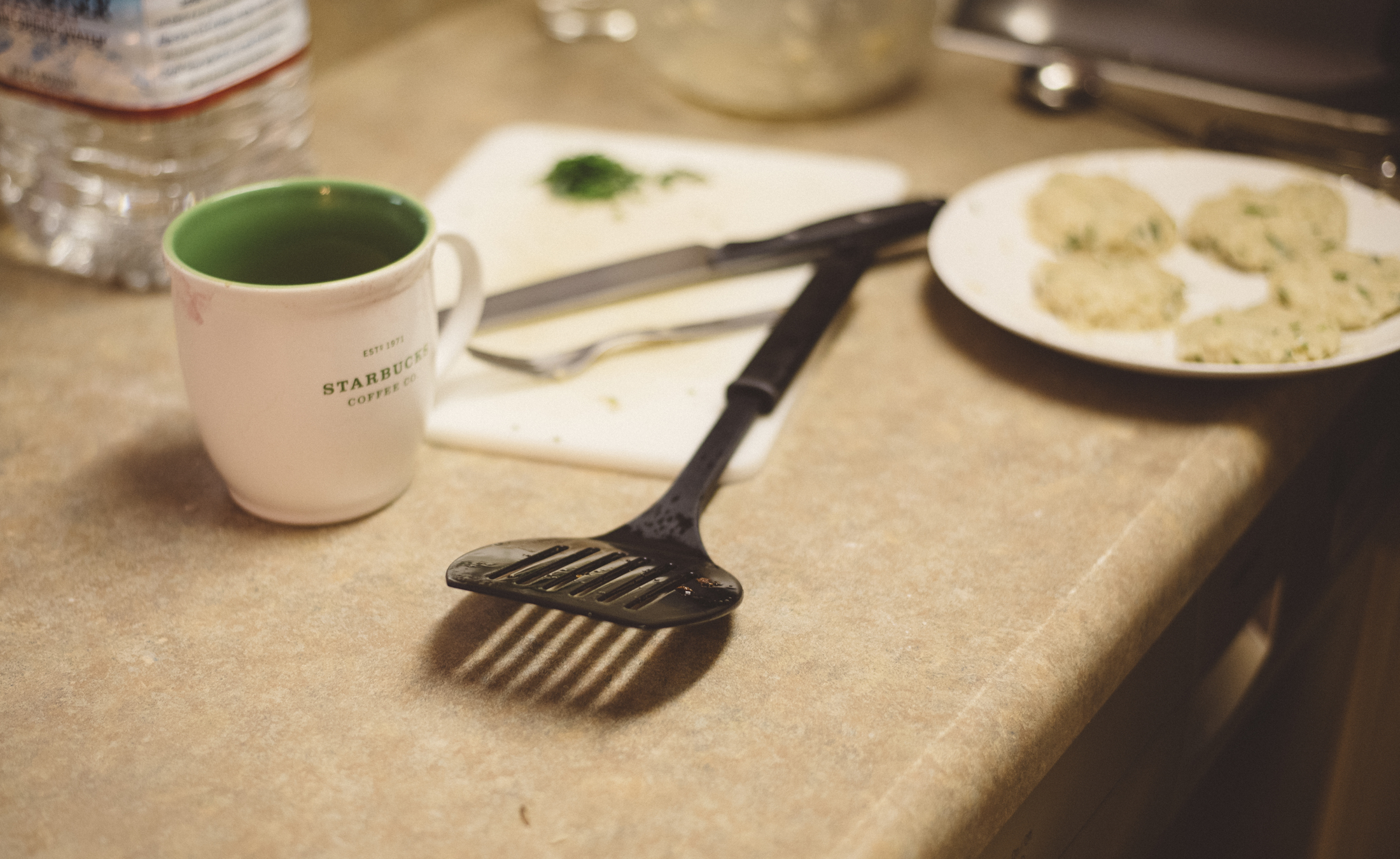 Latkes get assembled into their final form.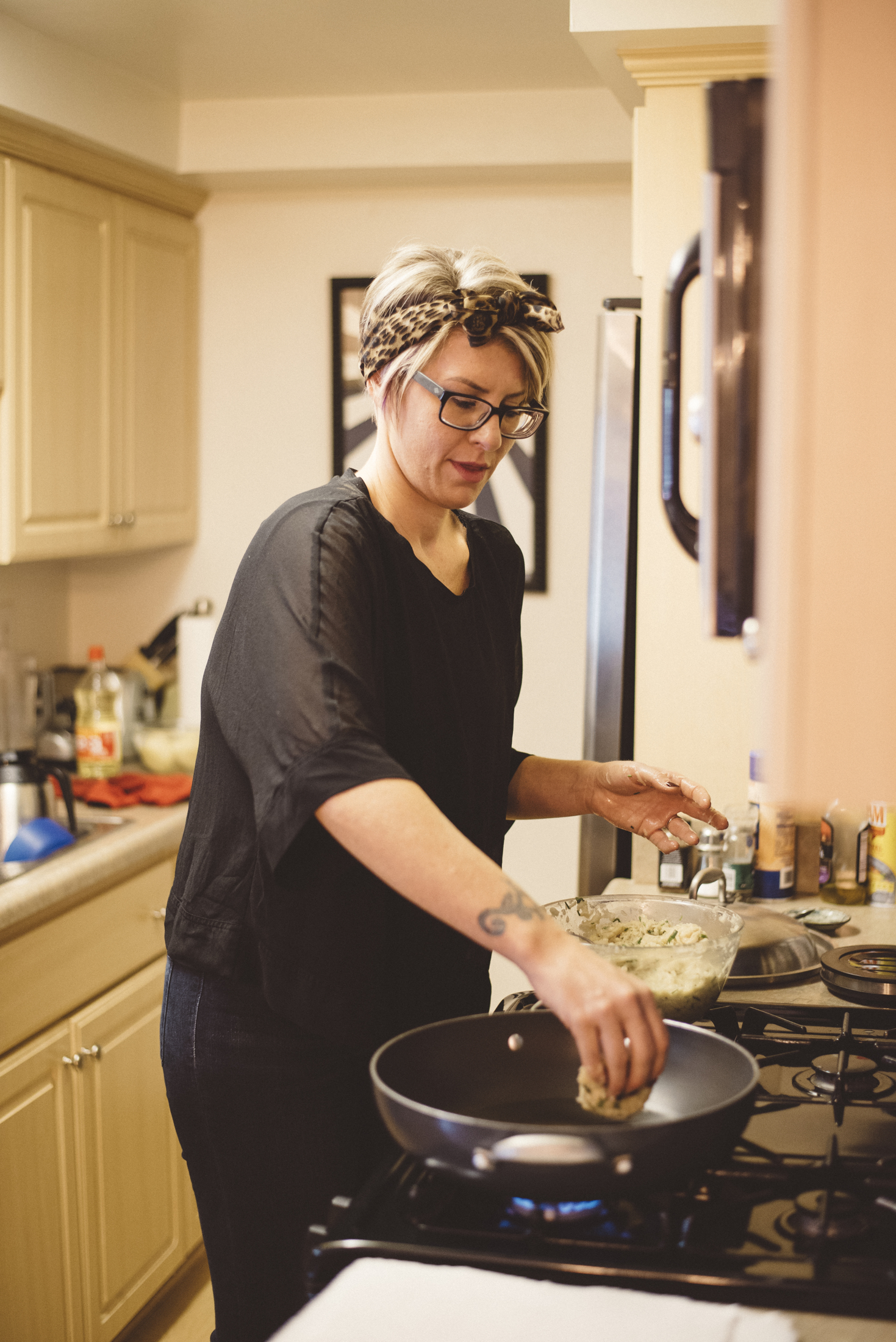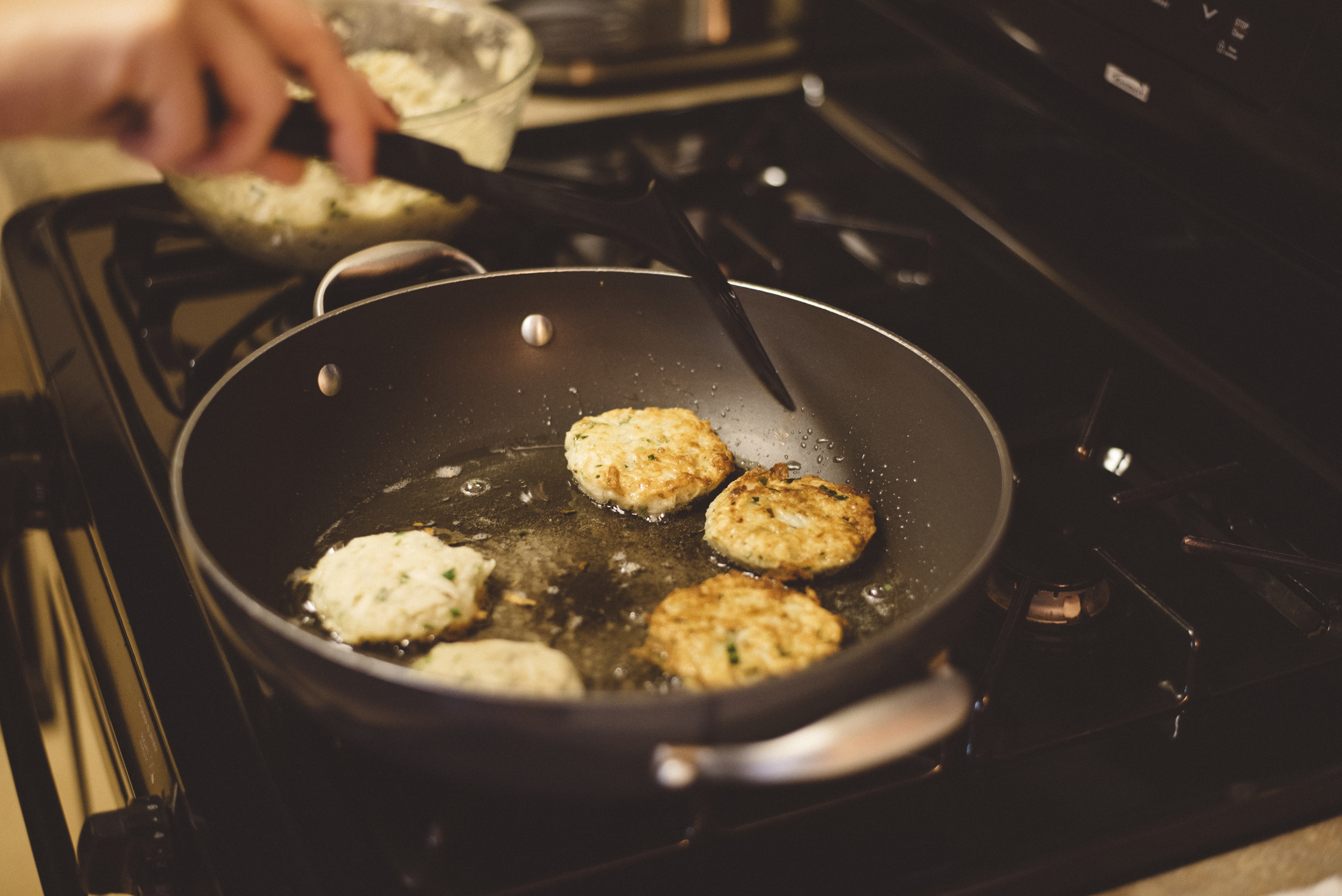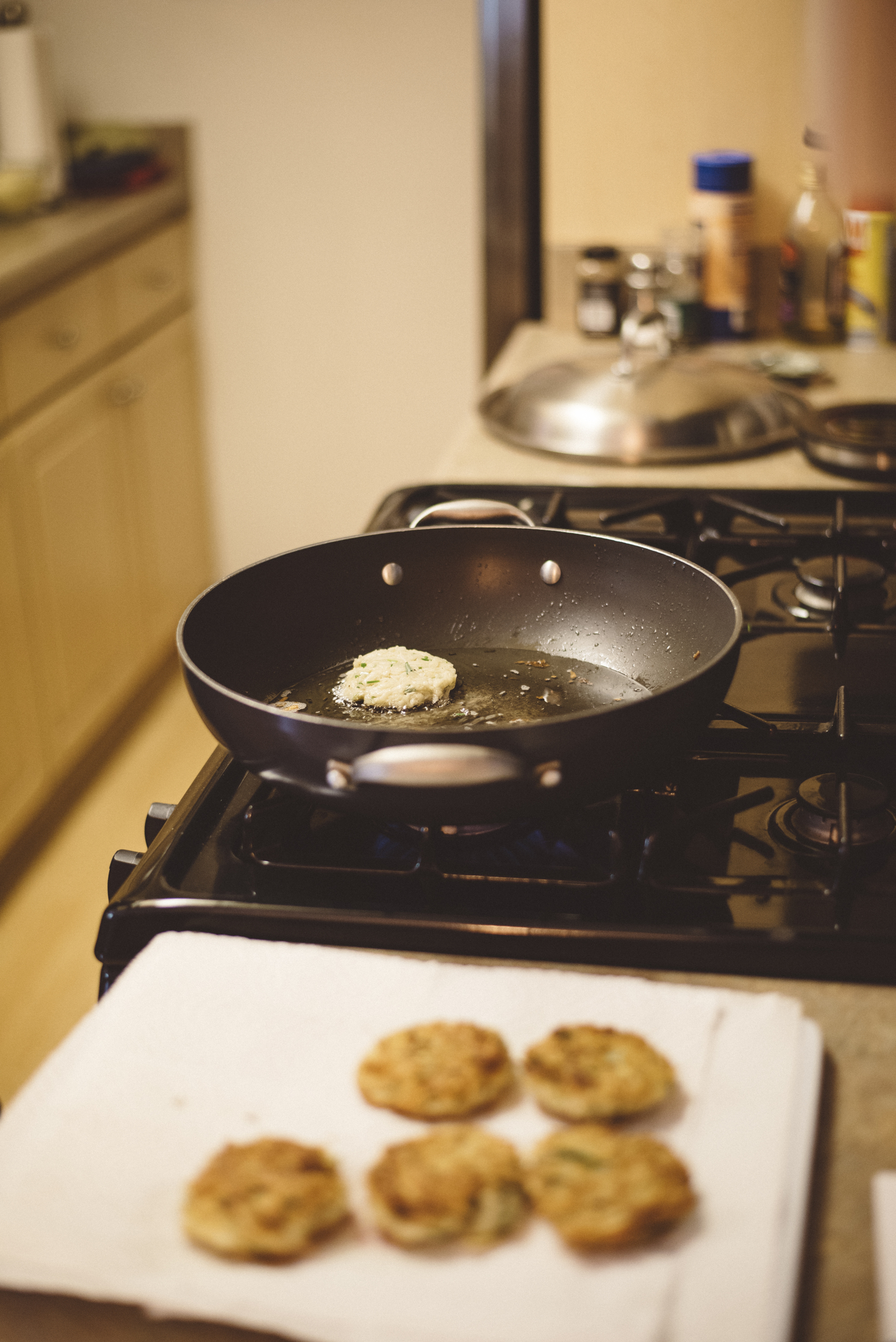 Into the oil they go! Nice and crispy latkes here we come!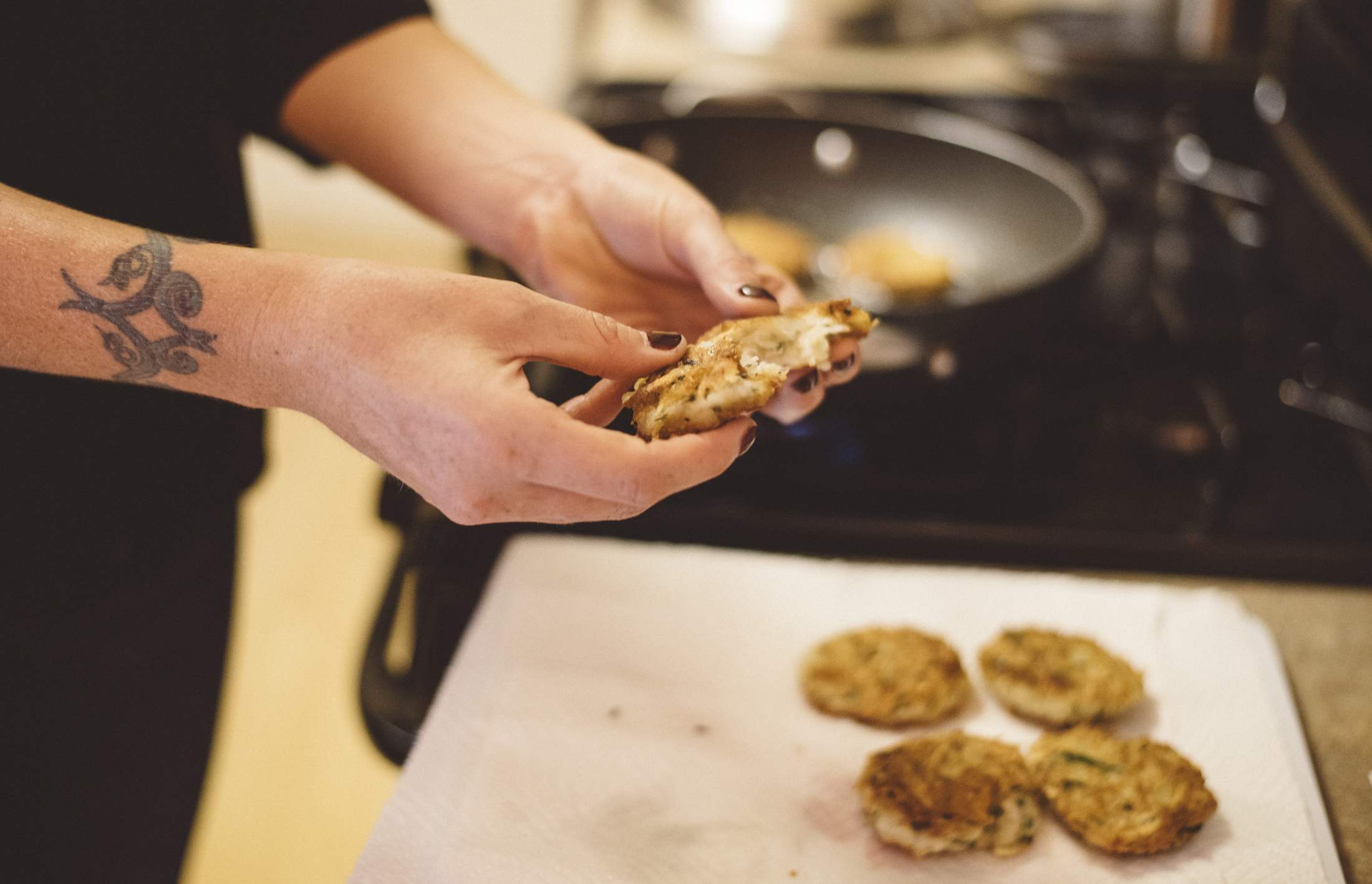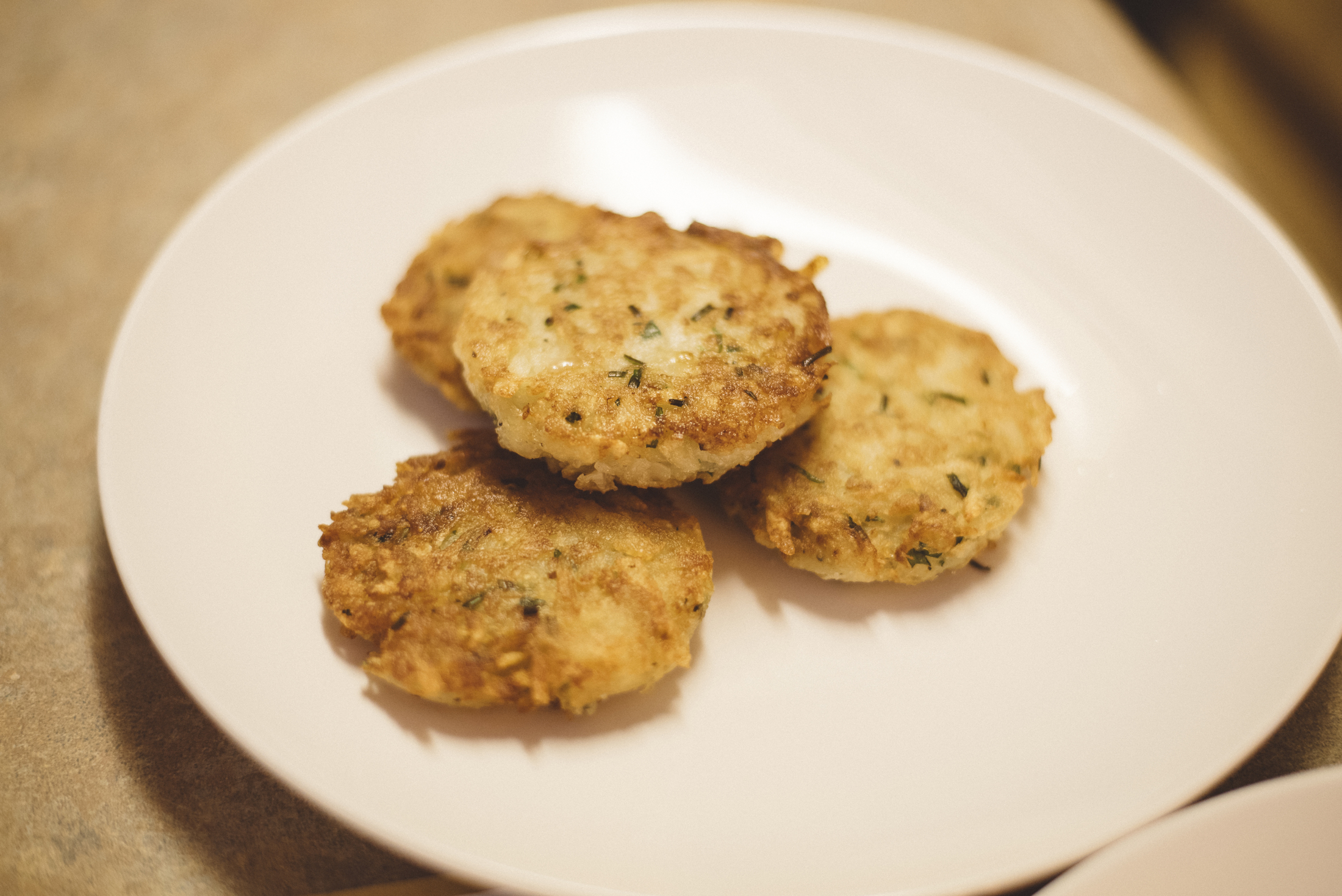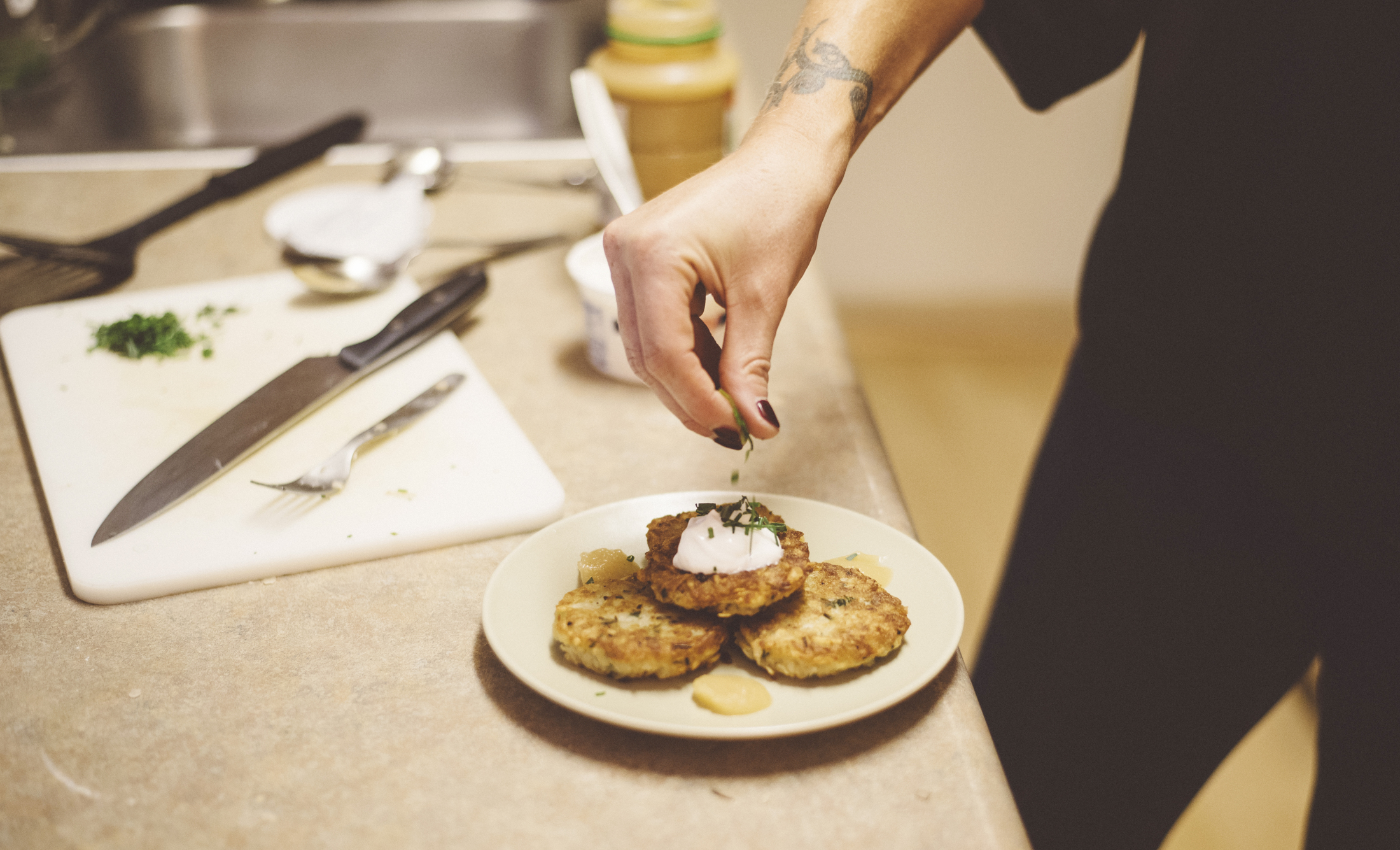 Latkes get dressed up with some sour cream and applesauce and popped on a plate.
Magnificent!
Thank you April for sharing your potato pancakes and stories with me!
Until next time..
Happy snacking,
xoxo,
RP
If you'd like to know more about April you can check her out at: